One of the biggest scams we've ever seen in the optics biz was the "Rated #1 Best Nightvision High Powered Waterproof Binoculars" promoted on Facebook. But recent ads for a "4K 10-300x40mm Super Telephoto Zoom Monocular Telescope", also on Facebook, take fraudulent advertising to a whole new level! We received several calls from customers asking if we carried these things, and someone even drove to our office to see if we might have them. Knowing the ad was pure BS, we blew $80 on one just so we could do a factual review, and save you from wasting your hard-earned dollars on garbage. You're welcome.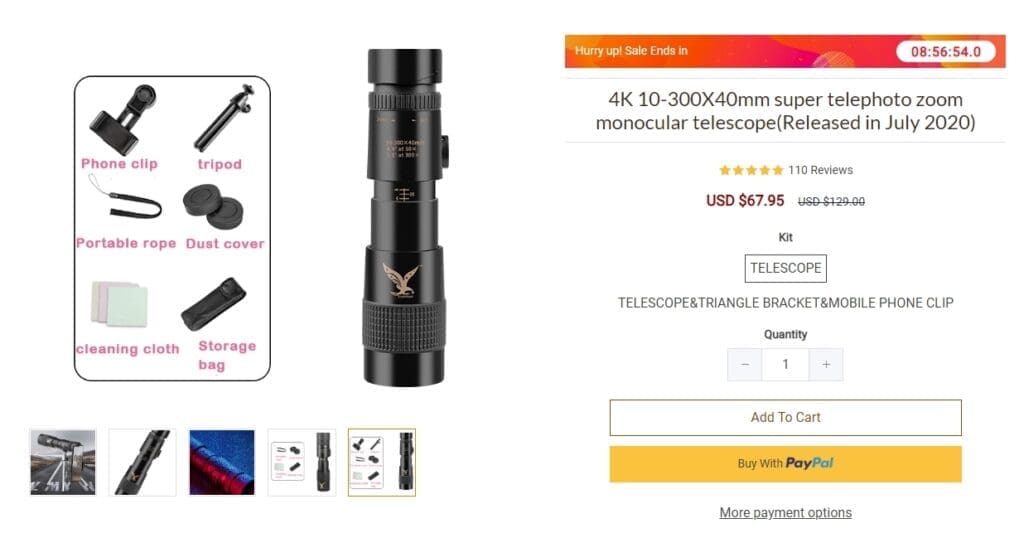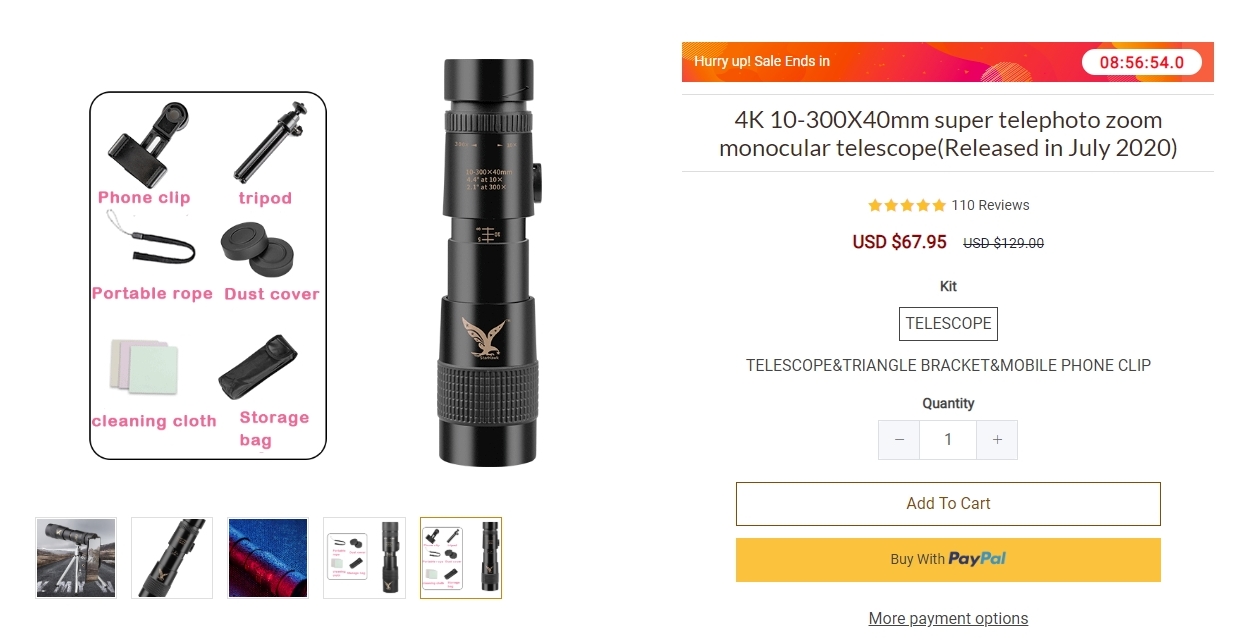 Here's the ad copy-
The telescope was invented by Johns Hopkins University and released on July 1 (2020). The purpose of this study is to achieve maximum magnification at the smallest effective aperture while ensuring the luminous flux and resolution angle of the telescope. This telescope is the first attempt to use nano etching technology, nano array technology, mesoporous assembly technology, thin-film mosaic technology and nano-optical materials to make the flatness error of the lens reach 10nm. The luminous flux reaches 30 times that of ordinary telescopes with the same diameter. The resolution angle is 47 times that of ordinary telescopes with the same diameter. The maximum magnification reached is 300 times. This is the first monocular to achieve this magnification and clarity on such a small scale.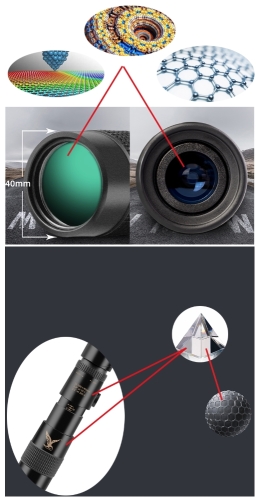 The Facebook ad included slick video showing this marvelous device zooming in on someone's face from miles away, as well as a close-up shot of the moon (actually an Apollo shot of the back side of the moon!) and planets. Those unfamiliar with optics would likely be quite impressed by all this. Sorry to disappoint you, but Johns Hopkins University had nothing to do with this, and there was no "study". Much of the mumbo-jumbo terminology above has nothing to do with optics, and none of it pertains to this monocular. It's 100% BS, every single claim is a lie. There's no nano-anything. The magnification is 10x to 30x, not 300x, and our measurements show it is actually 8x to 24x. The objective diameter is just 25mm, not 40mm. Even the anti-reflection coatings found on all but the crappiest of modern optics are only used on the two exterior surfaces, the rest of the optics are uncoated. In other words, it's a POS (piece of crap) zoom monocular, worth no more than $10. As expected, the image quality is very poor, especially at 30x (24x).
The shell is made from a titanium alloy with a higher specific strength and weighs only 1.1 pounds. After retracted, the length is only 7.87 inches and you can easily put it in a backpack or pocket when hunting, traveling, or camping.
It's not made of titanium, just ordinary aluminum and plastic. The monocular we received (see photo below) is much smaller than what's shown in their photo. Actual weight is just 3.7 oz. and the length is 5″.
Waterproof, dust-proof, and shockproof design: Nitrogen-filled waterproof and O-ring sealed optics prevent moisture, dust and debris and ensures the living waterproof function.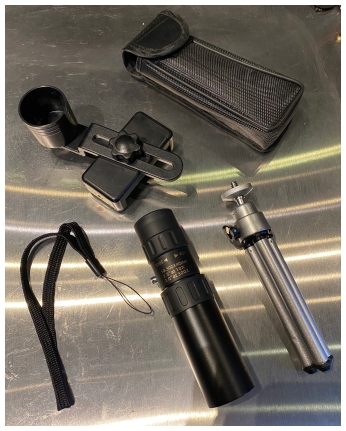 What's a "living waterproof function"?? The instruction sheet that comes with the monocular says "Because the lens and prism etc. are adjusted accurately, if it drops or is hit, the center will be made with excursion, the field of vision will not be matched and the picture will deflect, please us it with care. Please don't let it be wetted or drop into water if it drops into water please repair it by dissembling it as quickly as possible." Hmmm, doesn't sounds very shock-proof or water-proof to me? Good thing that it comes with a "portable rope" 🙂
The built-in night vision function allows you to use it normally at night.
Ummm, no- there's no "night vision function".
The telescopic anti-shake system and special tripod 3D gyroscope make the telescope's field of view very stable when it reaches a magnification of hundreds of times. Its performance is even much better than most astronomical telescopes with thousands of dollars.
A 3D gyroscope anti-shake tripod?  All we got is a mini-tripod you can buy at the dollar store (for $1)!  And better performance than astronomical telescopes with ("worth" apparently) thousands of dollars? Holy cow, our binocular business is doomed…  🙁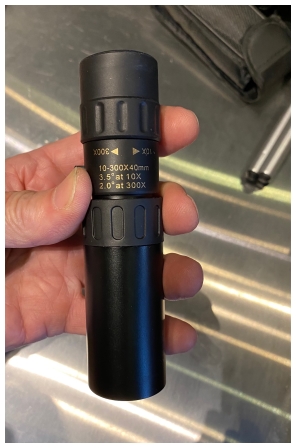 On the Facebook ads, people ask "where is this made". The seller repeatedly claims it is made in California. Apparently the technology is so advanced, "it could only be made in California".
BS. If it was invented at Johns Hopkins, and made in California, why does it ship from China? The humorous translation of the instruction sheet, some of which you've already read, leaves no doubt to the origin. Here's another- "Please don't look at the sun absolutely. If you look at the sun, your eyes may be ache and blind sometimes." The first thing to fall out of the box is a card that says "Kindly Notice: Complaint-Suggestion & Refund- Paypal and credit card takes time." Translation- good luck getting your money back!
Who's really at fault here? There will always be scammers out there trying to rip people off. But it's Facebook that gives scammers the appearance of legitimacy. How often have we seen Facebook ads for products that we know are junk- like that plug-in gadget that will save 40-60% on your electric bill?  There's absolutely no vetting of ads as long as Facebook is paid. When presented with any ad, Facebook gives us the option to report it as a scam. But Facebook's response is "we will no longer show you this ad", meaning they don't care that it's a scam, and they will continue to show the ad to everyone- except you! So I blame Mark Zuckerberg's greed more than anyone else for this. Buyer beware on Facebook!
-Kevin Busarow, Oberwerk