1991- Origin of "Oberwerk"- In the late 1980's,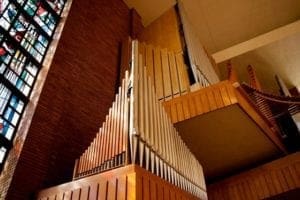 Oberwerk founder Kevin Busarow was freelancing as a software designer/developer, in addition to his full-time position as a computer hardware and networking engineer, primarily supporting word processing systems from NBI of Boulder, CO. Perhaps inspired by work being done at Xerox PARC Labs, as well as Apple, his interest turned to GUI's (Graphical User Interfaces). He spent countless nights and weekends creating one of the first icon-based GUI's for the PC. By 1990, his "Counterpoint Graphical Menu System" was released as an alternative to Microsoft Windows (ver. 2.0 at that time), and became somewhat of a commercial success. In 1991, Amstrad, a computer manufacturer in Europe, licensed Counterpoint to be pre-installed on all Amstrad PC's sold in Europe.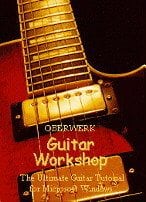 At that time, Kevin was advised to form a corporation. In choosing a name, Kevin thought back to his youth, when he would often turn pages and pull stops for his father's organ recitals. The term Oberwerk comes from organ music (German for "above work"), and refers to the division of pipes physically mounted higher than the rest of the pipes, and played from the upper-most manual (keyboard) on a large multi-manual pipe organ. So the name was chosen because of the "above the rest" connotation, and also because Kevin's software development was done outside of his "day job". Creating and continously improving Counterpoint meant getting by on 4 hours of sleep most nights, hence "over-work" also seemed appropriate. Several other software titles were developed through the 90's, including "DTP-Pro Desktop Publishing Utilities for Ventura Publisher", and "Oberwerk Guitar Workshop", which was one of the first guitar tutorial programs, and which ultimately evolved into a rather sophisticated guitar composition and score printing program as well. Guitar Workshop was eventually over-taken by a host of competitive products in the late 1990's, right at a point when Kevin was burning out with software development, but becoming increasingly interested in his long-time hobby of astronomy.
1999- BigBinoculars.com Opens- In July of 1999, Kevin was visiting Dana Point, CA for a family reunion.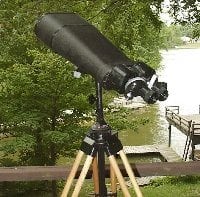 He visited Newport Beach Camera and Telescope Shop and saw a giant binocular for the first time- the legendary Chinese border guard 25/40×100- and was instantly smitten. But it was priced at $3995! (definitely not in the budget), and it wasn't practical to fly home with it. Upon his return to Dayton, he did some online searching and found the binocular was manufactured in Kunming, China. He contacted the factory reps, and tried to purchase one directly, but they had a 100-unit MOQ (minimum order quantity). After several weeks of back and forth emails, the factory finally relented and accepted an order for just 4 units. The 4 units arrived, and 3 were quickly sold on eBay for just enough to cover the cost of Kevin's binocular. After using the binocular for a while, and seeing how good it was, Kevin sold off most of his antique duck decoy collection on eBay to raise funds to place another order, this time for 12 units. The domain name "bigbinoculars.com" was registered, and an online store was created.
2000- Small binoculars added- Oberwerk gradually added more binoculars to the product line beginning in early 2000. By 2003, Oberwerk offered about 25 models.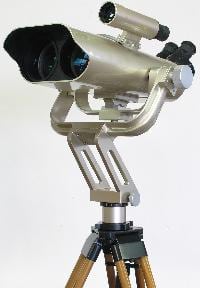 2001- Oberwerk's first 45-degree model- A 45-degree fixed-power 25×100, based on the original 25/40×100, was introduced.
2002- Kevin cuts his hours- Then employed as Senior Network Administrator at EDS, Dayton, Kevin cuts his workday to 4 hours (6am-10am), to devote the remaining workday to keeping up with Oberwerk orders.
2002- The First Production Binocular Telescope- The Oberwerk BT-100, a 1.25″ focuser version of the original 25/40×100, was the first production binocular on the market that was compatible with most telescope eyepieces.
2003- Kevin resigns from EDS- Oberwerk becomes a full-time business.
2003- Oberwerk partners with Miyauchi- Oberwerk quickly becomes the USA's largest Miyauchi dealer. This lasted until Miyauchi ceased production in 2010.
2004- BT-100-45 Introduced- The 45-degree 25×100 binocular was fitted with 1.25″ telescope focusers and modified for much greater back-focus- and the BT-100-45 was born.  Our first fork mount, that allowed viewing to zenith (directly overhead), was included.
2006- Oberwerk Moves to the Russ Research Center- Oberwerk outgrew its original commercial space on Harbert Dr. in Beavercreek, OH, and moved to Bldg. 10 of the Russ Research Center.
2007- Oberwerk / Yunnan Optics Joint Venture- Oberwerk forms a joint venture with their supplier


of Long-Range Observation and BT-Series Binoculars. Yunnan Optics Co. Ltd. in Kunming, China, is renamed Yunnan Oberwerk Optics Co. Ltd. (YunAo in Chinese). Oberwerk President Kevin Busarow becomes minority owner of YunAo, and sits on the Board of Directors.
2009- Oberwerk Announces Lifetime Exchange Program– Customers may now exchange any Oberwerk binocular, regardless of age or condition, for a new binocular of the same model, at 25% off.
2012- Oberwerk Moves to a Former City of Dayton Fire Station-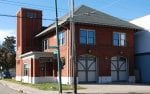 In late 2011, Oberwerk purchased a circa 1905 former City of Dayton fire station. Contractors worked for 6 months on the exterior and interior, and in July of 2012, Oberwerk moved from the Russ Reseach Center to the the newly-renovated fire station.
2012- Oberwerk introduces the BT-70-45- In late 2012, Oberwerk introduced a scaled-down version of their flagship BT-100-45 Binocular Telescope. The BT-70-45 Binocular Telescope was just 13″ long and weighs only 8.5 lbs. Just like its larger sibling, it is equipped with standard 1.25″ telescope focusers.
2013- Oberwerk Installs a Collimator- Kevin Busarow spent a week at Suddarth Optical Repair

learning "Tail-of-Arc" binocular collimation on a Navy Mark V collimator. Kevin then built a collimator using an 11″ Zenith Optics military spy plane camera lens and a Suddarth auxilliary telescope, making Oberwerk the only binocular retailer in the USA with an in-house collimator (and the knowledge to use one).
2013- Oberwerk BT-70-45 named Star Product by Astronomy Magazine-

Phil Harrington does a full review of the BT-70-45 in the July 2013 issue of Astronomy Magazine. Two months later, the BT-70-45 was named a Star Product for 2013.
2013- Oberwerk Purchases Garrett Optical- Oberwerk acquires the assets of Garrett Optical of Tulsa, OK, and Garrett becomes a division of Oberwerk. Oberwerk also establishes a partnership with Suddarth Optical Repair of Henryetta, OK for out-of-warranty repair work.
2013- Yunnan Oberwerk Optics Joint Venture Ends- Two Yunnan Oberwerk Optics directors, that we had worked with since 1999, break away and establish their own optics assembly plant.  The new assembly plant begins manufacturing most Oberwerk models, all exclusively for Oberwerk.  For the first time, Oberwerk is intimately-involved with the entire process- from design to production to quality assurance.
2014- Oberwerk 8×40 Mariner named Editor's Choice by SPACE.COM- Our 8×40 Mariner was named the 2014 Editors' Choice at SPACE.COM. Our 15×70 Ultra was named a SPACE.COM runner-up (didn't win only because of its higher cost and weight).
2015- Oberwerk introduces the Sport HD Series- Oberwerk is finally a contender in the Sport Optics market with the introduction of the Sport HD Series. Ideal for bird-watching, these compact and lightweight phase-coated roof-prism binoculars offer excellent image quality, at a price well under competitors.
2015- Oberwerk's Headquarters Designated a Historic Landmark- Oberwerk's home in the former City of Dayton Fire Station #15 (circa 1905) was awarded a "Historic Landmark" plaque from the City of Dayton.
2015- Oberwerk introduces the Sport ED Series- Oberwerk introduces our first apochromatic binoculars, the Sport ED Series (8×42 and 10×42). The use of ED (extra-low dispersion) glass eliminates chromatic aberration from the view. Ideal for advanced-level bird-watching and nature observation, when flawless color rendition is required.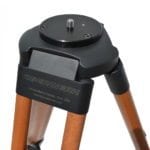 2017- BigBinoculars.com retired- Unable to keep up with increasing demands of running an e-commerce website, Kevin redirects bigbinoculars.com traffic to a newly-designed and professionally-managed oberwerk.com.
2017- Oberwerk forms Oberwerk-USA- Oberwerk stops importing wood tripods and forms Oberwerk-USA, to build custom TR3 wood tripods in Dayton, OH.* Oberwerk-USA tripods feature "Slip-Stop" (U.S. Pat. No. 10,281,081) crash protection, and are built from select American maple and walnut hardwood.
*some parts imported
2018- Oberwerk Surpasses 5000 Sales of 25/40×100 Long-Range Observation Binoculars and Binocular Telescopes- For two decades, Oberwerk has been the world's leading supplier of high-power binoculars (those capable of 40x or higher magnification), outselling all other brands (combined!) in this category.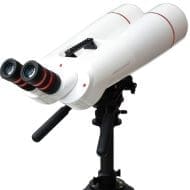 2018- Oberwerk Introduces the XL Series Binocular Telescopes- After 3 years of development, Oberwerk introduced the ground-breaking XL Series at the 2018 NEAF Astronomy Convention. With all-magnesium-alloy construction and razor-sharp apochromatic optics, these are the highest-performing lightest-weight binocular telescopes on the market.
2018- Oberwerk Purchases a Navy Mark V Collimator- While Oberwerk had a home-brew binocular collimator since 2013, when an optics collector in San Diego decided to sell his ultra-rare Navy Mark V collimator, Oberwerk jumped at the opportunity to obtain the real deal. These tools help Oberwerk provide the most perfectly-collimated binoculars on the market.
2019- BT-100-45 Retired- After a 17-year run, Oberwerk's former flagship binocular, the BT-100-45, is discontinued. The BT-70-45 is also discontinued, both models having been made obsolete by the new XL Series.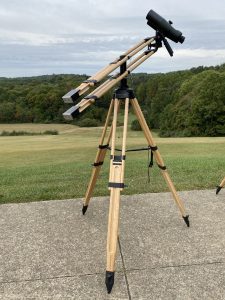 2019- PM2 Parallelogram Mount Introduced- The PM2, built in Dayton, and crafted in maple, aluminum and stainless steel, is the world's finest parallelogram mount. Coupled with the TR3 tripod, its great looks and its smooth operation is unmatched by anything before it.
2020- BT-127XL-SD Introduced- The BT-127XL-SD, with triplet objectives using both FCD100 and FK-61, was designed and built without regard to cost to be the highest-quality binocular telescope on the market.
2022- SE (Special Edition) Series Introduced- Due to the popularity of compact roof-prism binoculars, some manufactures are discontinuing Porro-style binoculars.   For the fans of Porro-style binoculars, we introduced the 8×32, 10×42, and 12×50 SE.  Fully waterproof and nitrogen filled, with a wide FOV, and ED objectives for zero chromatic aberration, they're the highest-quality hand-holdable binoculars we've ever offered.
2023- BT-120XL-SD Introduced- The BT-120XL-SD, with FCD100 objectives, offers optical performance very close to our flagship BT-127XL-SD, at significantly-less cost, and 5 lbs. less weight.