Welcome to Oberwerk! Our binoculars are increasingly becoming known worldwide as the best value on the market. We're also the world's leading supplier of high-power binoculars (capable of 40x or higher magnification). Why buy from us? Here are 5 things that we do better than all other binocular stores-
| | |
| --- | --- |
| |   Every binocular expertly tested and tuned |
| |   Knowledgeable staff, ready to help |
| |   15-day satisfaction guarantee |
| |   Exceptional service and support |
| |   No dealer mark-up on Oberwerk products |
 Every binocular expertly tested and tuned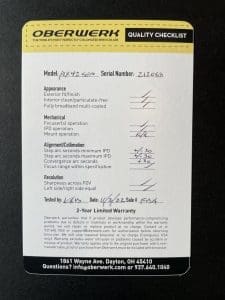 Every Oberwerk binocular is tested and tuned to perfection in Dayton, Ohio by Oberwerk founder Kevin Busarow, and comes with a hand-written check-out list. An Oberwerk serial number is assigned and laser-engraved only after a binocular completes this quality assurance process. Over the last two decades, Kevin has tested over 34,000 binoculars (including around 7500 Long-Range Observation binoculars and Binocular Telescopes), and is one of the most-experienced (and fanatical) optical techs in the business. Kevin's testing involves numerous optical and mechanical checks, with a special emphasis on "collimation" (alignment).
After training on the Navy Mark V collimator, Kevin built a collimator from a surplus spy plane camera lens. Since then, Oberwerk has obtained the real deal- an ultra-rare genuine Navy Mark V.
As the world's leading supplier of high-power binoculars, we understand how important it is that our binoculars are as perfectly-aligned as mechanically possible, in order to provide well-merged images with no eyestrain, at any IPD setting. Kevin applies the same level of precise alignment required by our high-magnification binocular telescopes across the entire product line, down to the least-expensive low-magnification models, making Oberwerk binoculars the most perfectly-collimated binoculars on the market.

 Knowledgeable staff, ready to help
While many astronomy shops and camera stores may sell binoculars, binoculars are not their specialty. Since 1999, our entire business has been focused on binoculars for astronomical and terrestrial usage. Over the years, we've learned a few things about the binocular market, and our customers. We realize that the majority of people thinking about purchasing a binocular need some help in determining which model will be best for their needs. There are a bewildering number of choices available, with a wide range of sizes and prices. We understand buying a binocular can be intimidating to those that don't have the time to do a great deal of research on the subject. Even if you're not ready to make a purchase, we promise to give you our expert advice and recommendation, with as much (or as little) technical detail and explanation as you like- and without a sales pitch. Our approach is to teach and educate, without sales pressure, to help you make the best choice. We believe that the more you learn about Oberwerk binoculars, the more you'll realize our products offer the best overall value available. Kevin spends much of day answering questions over the phone or by email- so feel free to ask for him when you call. He can also Zoom or Facetime (use 937-900-7901) if you'd like to speak face-to-face or see something demonstrated.
 15-day satisfaction guarantee
We want our customers to be thrilled with their binocular purchase. If you realize you ordered the wrong model, we'll exchange at no charge (except for shipping). If you are not satisfied with our product, we'll accept a return and issue a full refund (minus shipping), up to 15 days after purchase.
 Exceptional service and support
If you receive a binocular that was damaged in shipping, or does not meet your expectations for whatever reason, we'll immediately replace it at our expense, and include a pre-paid return shipping label for the original binocular (contiguous USA only). If your binocular requires service beyond the warranty period, our service department stocks all Oberwerk parts, and does repairs at a reasonable 30-minute interval rate. Oberwerk also offers the Lifetime Exchange Program, where any Oberwerk binocular, no matter how old or damaged, can be exchanged for a new one at a substantially-reduced price.
In 2007, our business partners, located in the optics valley of Kunming, China, built a small assembly plant that manufactures binoculars exclusively for Oberwerk, so we have full control over the entire process- from design to production to quality assurance.  Final inspection and collimation (alignment), for each and every binocular, takes place in our facility in Dayton, OH.  While other mass-producing brands emphasize increasing profits by cutting manufacturing costs, Oberwerk demands the highest-possible quality, regardless of cost. Because we refuse to cut any corners in the manufacturing process, our products cost considerably more to build than many of our competitors' products. In order to offer competitive pricing, Oberwerk does not sell through distributors and resellers (with the exception of some models on Amazon).   We sell directly to our customers, eliminating typical levels of distribution and retail markup. Our products are priced fairly (we don't have a fake "retail price"), and they never go "on sale"- so you can be assured you're getting the lowest price whenever you're ready to buy.
Because we thoroughly test every binocular, and carefully pack for shipping, our defect/return rate is exceptionally low and our customer satisfaction very high.
If you have any questions, we're standing by ready to help. Call us at 937-640-1040, or email to [email protected], and we'll promptly reply.