The StarScope Monocular is yet another product scam that apparently lots of people are falling for. This one isn't quite as egregious as the "10-300x40mm Super Telephoto Telescope" we warned you about previously, but it's still full of deception. Despite the ridiculous claims of military-grade magnification, better than $3000 Telescopes! and …will give you the power of a $4000 DSLR in your pocket, it's just an ordinary low-end Chinese-made monocular. Note that it's claimed to be 12x50mm, but the exterior diameter is 53mm, and with the thickness of the objective cell, body, and rubber covering, the objective lens itself could be no more than 42mm. The exit pupil diameter is listed at 3mm, which if correct means it's actually 12x36mm.
They've even created a number of fake review websites, such as "Best Honest Reviews", which asks the question StarScope: The REAL DEAL Or Just Another SCAM?, but sadly, concludes with the wrong answer.
Here's another website called "Top Reviews Daily", with a fake reviewer named Douglas Jones. Douglas is a gadget lover. He has two sons aged 7 and 16. Douglas loves good wine and stand-up comedy.
---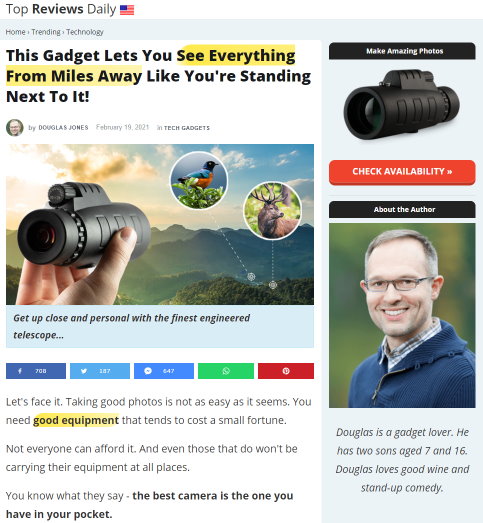 ---
While Douglas doesn't appear to be a real person, the claims for the StarScope could be a stand-up comedy routine. Here's a sample (I'll be the heckler)-
Douglas: The team behind this amazing product was tired of carrying around heavy, expensive monoculars and binoculars with their huge bulk. And because they have the skills, they created a brand new monocular that is both easy to carry around and affordable.
Me: Ah, they have the skills! "Girls like guys who have skills" (Napoleon Dynamite voice).
Douglas: Because technology was advancing so fast, the team behind StarScope Monocular used modern CNC equipment, optical programs on the fastest computers, and high-tech designs to create a reasonably-priced telescope that was as good as those from the most expensive brands.
Me: Fast technology, fast computers- and the skills!
Douglas: StarScope Monocular is a success beyond its creators wildest dreams. It is now being offered to perfectionists who appreciate quality…
Me: I'm a perfectionist that appreciates quality. I don't appreciate this.
Douglas: Perhaps the finest monocular ever built, it can be handheld or mounted to a tripod for more stability. It comes with a built-in tripod socket, perfect for mounting to a camera or for long term observation!
Me: The finest ever built- yet it doesn't even use expensive ED (Extra-low Dispersion) glass. It's a miracle!
Douglas: The StarScope Monocular team wants to get its awesome telescope out to people who will tell others about it, and that's why they are offering such an AMAZING DEAL!
Me: When buyers tell others about it, this scam will be over.
Douglas: The magnified viewing of StarScope Monocular has been tested, and found to equal or exceed the zoom and photo quality produced by some of the most expensive brands on the market.
Me: But StarScope doesn't zoom or take photos- your phone does that!
Gotta admit, Douglas is pretty funny! I bet you're LOL right now too- unless you already ordered one of these? If you did, once you receive it and realize that you've been scammed, you'll want to return it for a refund. Then you'll discover that they're not based in the USA- you have to return it to China- and the least-expensive shipping method will cost more than the Starscope! If you try to contest this with Paypal, as well as most credit card companies, they'll side with the seller- and say that you must return it in order to get a refund. So unfortunately, you're stuck with it.
Conclusion: The price for the StarScope "special offer if you buy now" is around $50. While this is pretty high for the low-end Chinese monocular that it is, it's not a complete rip-off. While the claims for the StarScope are ridiculous, it should function as well as, but no better than, the sub-$50 monoculars on Amazon.