You NEED a

Long-Range

Observation Binocular or Binocular Telescope!
Does your home or office have a fabulous view? Oceanfront, lakefront, hill-top, mountain-view, penthouse- the view from all of these types of properties would be greatly enhanced with a high-quality optical instrument. Think about what you paid for your great view. The cost to get even more enjoyment from that view from one of our Long-Range Observation binoculars is comparatively minuscule.
Binocular or a Telescope?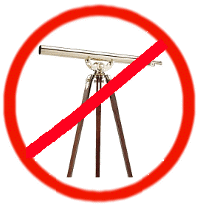 All too often, people choose a decorative brass telescope for their great view. Unfortunately, most brass telescopes are meant to be looked at- not through. Most do not have high-quality optics (in fact they typically have very poor optical performance). Even if the optics were of excellent quality, one 2″ or 3″ objective simply cannot compare to two 4″ objectives. Using both eyes provides perspective and depth perception to the view. For less than the cost of that brass telescope, you could own one of the world's most powerful binoculars. Optical superiority aside, we think the Oberwerk Long-Range Observation Binoculars and Binocular Telescopes, with their military heritage, over-engineered construction, and extra-sturdy made-in-the-USA hardwood tripods, are better-looking and certainly more interesting than a brass telescope. While most brass telescopes just collect dust, owners of these binoculars will never tire of the spectacular 3-D views that they deliver. If you're like most of our customers, you'll use your binocular several times a day.
What can I expect to see through these high-powered binoculars?
You can read a car license plate one mile away (under ideal conditions).
You can clearly see boats at sea that are not at all visible to the naked eye- sometimes so clearly that you can read the name on the ship (again, under ideal conditions).
You can see Saturn's rings, cloud belts on Jupiter (and 4 of it's moons), and get great views of the craters on our own moon.
One of our customers in California reported that while he was viewing down the coastline from his home, he recognized friends of his walking into a restaurant- which was 3.5 miles away.
A customer said they could count the lights on the Verrazano Narrows Bridge (which connects Brooklyn to Staten Island)- from their New Jersey home 45 miles away!
Click here to see some actual photos of what 25x and 40x can show you.
Why buy an Oberwerk?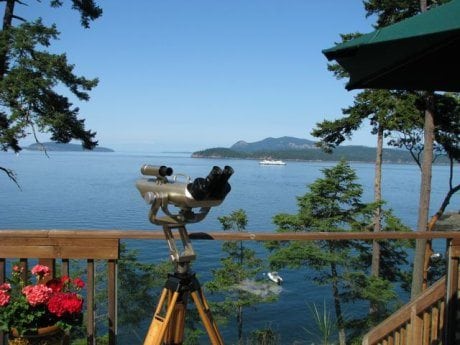 Simple- giant binoculars of this size are definitely a niche product, and there are not a lot of choices. Of course there are plenty of less-capable binoculars that sell for less, but there simply are none better than the Oberwerk premium models at anywhere near their price point. Consider also that since 1999, Oberwerk has been well-known among the amateur astronomy community for high-quality products at low prices, and with exceptional customer service. Binocular astronomy is considerably more demanding of optical quality than daytime terrestrial observing. Because of this, every Oberwerk binocular is tested and tuned to perform well for binocular astronomy. This means you are assured of receiving a perfectly adjusted and well-collimated instrument, even if your binocular will not be used on the night sky (however, we highly recommend that you give this a try).
Anything else I should know?
Yes- there's a reason these are called giant binoculars. Our 100mm binoculars are 2 feet long. The objective lenses are 4″ in diameter, and of course there are two of them. The wood tripod will require about 36″ of floor space (a little less if you put two of the tripod feet against the window-wall). So be aware that these are quite large, but keep in mind that only an instrument of this size can produce such spectacular high-power views. If these are simply too large, or don't fit your budget, check out the smallest and newest of the XL Series- the BT-70XL-ED. It's the least-expensive binocular telescope with ED objectives on the market.