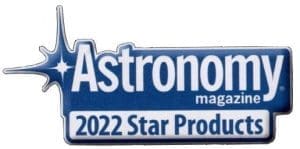 Our newest and largest XL Series Binocular Telescope features 5″ apochromatic (FCD100 / FK-61 triplet) objectives, with a relatively-short 650mm focal length, and 27mm of clear prism aperture. The BT-127XL-SD was designed to be the highest-performing production binocular on the market, without regard to cost. Even with two 5″ triplet objectives and massive prisms, magnesium-alloy construction makes it remarkably-lightweight at just 24.5 lbs. With its unmatched image quality, we think it's a much more practical alternative to the world's largest 150mm binoculars, which are very heavy, very expensive, and difficult to mount. Finished in iridescent "Luna Pearl" White with silver anodized trim, it's also quite attractive.
The BT-127-XL-SD includes our premium 14mm (46x) 70° AFOV eyepieces. 30x (22mm) and 93x (7mm) are also available. The included heavy-duty case has wheels on one side for easy transport.
Every BT-127XL-SD is tested and tuned to perfection prior to shipping, with collimation certified to 163x. 3-year Limited Warranty.
Mounting Options:
Recommended tripods are the Oberwerk TR3 hardwood tripod or the Manfrotto 161MK2B, which has a crank-up elevator. Either tripod can be configured with the Oberwerk XL-280 Fork Mount or Manfrotto 612 NitroTech Head.
Fully-automated "go-to" operation is available using the iOptron HAZ31.
Binomania.it BT-127XL-SD YouTube review.