For the last three years, we've been working on an updated replacement for our BT-80-45 that was discontinued in 2010. Inspired by the iconic Bj100-iC "Galaxy" from now-defunct Miyauchi, as well as the sleek Kowa Highlander, our goal of the XL-Series was highest-possible optical performance ("to excel") with the lowest-possible weight (Xtra-Light). After testing eight or so prototypes over the last two years (some were actually 3-D printed), we finally achieved that goal, and the BT-82XL and BT-82XL-ED were approved for production. Around that time, our engineer surprised us with a 100mm ED prototype using the same body, which was tested and found to be optically-fantastic, but quite objective-heavy. With two simple modifications (magnesium alloy objective tubes and an offset mount foot), the balance issues were solved, and the BT-100XL-ED was also approved for production.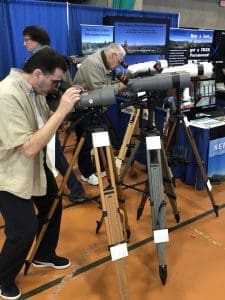 A few new colors were tested until we were down to two- a bad-ass "Big Eyes" Gray and a lustrous "Luna Pearl" White. We couldn't agree on a favorite, so for now, all models will be available in your choice of these two colors. The first production models were received and tweaked to perfection just 2 days before heading for New York to introduce them at NEAF 2018 (Northeast Astronomy Forum- the largest astronomy expo in the world).
For the technically-minded- what we now have is a combination of highest-possible optical performance using FK-61 ED doublet objectives, in a all-magnesium alloy 10.5 lb. 45° BT-82XL-ED (fl=450mm) and 12.5 lb. 45° BT-100XL-ED (fl=560mm) binocular telescope, at prices far below comparable models from APM. The prisms have a clear aperture of 24mm, which means the 82XL can operate as low as 19x, and the 100XL as low as 25x. These models also have an effective aperture that is very close to the actual objective size, with just enough baffling to eliminate the less-than-optimal performance delivered from the outer-most edge of all objective lenses. The IPD range is the widest of any binocular ever produced- from 50mm to 80mm, which means even the smallest child can view through both eyepieces. The handle is a industry-standard Picatinny rail, so can be used to mount a variety of finder-scopes and laser pointers, including our new Deluxe Multi-Reticle Finder.
While magnifications as low as 19x and 25x can be used, the XL Series is supplied with the finest eyepieces we've ever offered- a 70° 14mm pair that delivers 32x in the 82XL and 40x in the 100XL.
The views are so spectacular that you may not need any other eyepieces. But with their ED objectives, chromatic aberration is so minimal that magnifications up to 75x can be used in the 82XL-ED, and up to 94x in the 100XL-ED!
We also offer a non-ED model, the BT-82XL, that offers remarkably-good performance, with minimal chromatic aberration up to 56x magnification- at a most-affordable price. For the home-with-a-view, the BT-82XL mounted on one of our gorgeous hardwood tripods, is well-under $2000. Not only is it absolutely beautiful, and highly-portable at just over 20 lbs. for the entire setup, it will optically out-perform anything else on the market anywhere near its relatively-low price- especially so the $2500 Skyhawk 9600.